When I started collecting images for this post I thought March seemed a bit dry for sketching - maybe there would be 6 or 8 pieces to feature.  Boy did I underestimate my own productivity. This post doesn't even include most of the work that related to pen reviews. I'm not in love with these drawings, but a lot got made this month and that's what counts.  Onwards! For the first weekend in March, Colin organized a sketchcrawl to the Broadway Triangle downtown.  I'd been wanting to sketch the Brewery Blocks for a long time so this was a perfect opportunity. Then I sketched the top of the distinctive Telegram Building and finished with a quick take on the Zoobomber bikes right next to our lunchtime meet-up location, Ringler's Annex. I've still never sketched Powell's or Ringler's - next time!
(Much more below the cut)
A couple quick shots while stopping for coffee at Guapo Comics on SE Foster.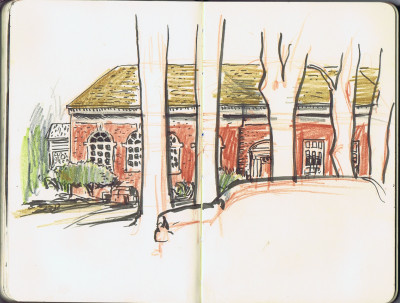 I took a day off work and did a solo expedition to the Oregon Zoo, but many of the animals were hiding from the cold and there were loud children. I wanted to hide from the cold AND from the loud children. Every year I try once and remember why the zoo isn't as great for sketchers as it sounds.
So close to the end of the Moleskine sketchbook now!  This is the part where suddenly empty space seems particularly attractive. I nipped out of my cubicle for a break to sketch from my building's second floor mezzanine.
Another sketchcrawl!  We explored the Brooklyn neighborhood, focusing on the Aladdin Theatre.  There are several posts showing the great work the other urban sketchers did on this day. That last building and the tree framing it were gorgeous and I'm frustrated to have not done them justice - must go back some day.
Afterwards Tony and I went to Legare's cafe/community center nearby which was great, but my drawings were petering out.  Nonetheless, as I wandered home by way of Ladd's Addition I got inspired to make this one last sketch.
On March 26, Matthew Brehm came to Portland and taught a workshop!  We got rained on in the afternoon, which made what was a bad art day for me even worse - but the lecture in the morning was fantastic and it was great fun chatting with the other sketchers.  I felt very inspired and - just as happened after the Symposium last July - I'm still processing what he said, it's still sinking into my work.
During the week, Mike and I went to a concert at Mississippi Studios and got there early in order to nab seats.  I fooled around with my Noodler's flex pen and Kuretake Brush Writer.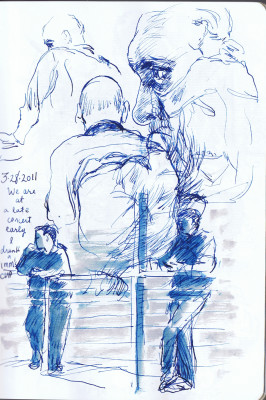 This last weekend, one of the urban sketchers, Bob, invited us to his home studio, where we had a bit of a potluck and I didn't draw anything because I was too busy socializing.  However, afterwards Deb and I met up at the cafe in Powell's where I grabbed a few sketches that will be part of my next review for the Pen Addict. Sneak preview!
And then there were the days when I just sketched from TV (and the cat).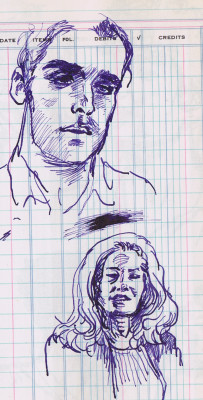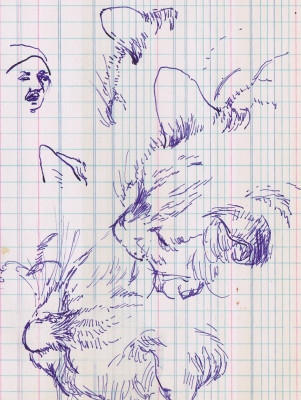 How can it be that I remember so many hours that I should have been drawing, but don't remember all the hours I actually was drawing? Oh yeah - when drawing, time  just disappears.  It's the angst that makes time pass slowly.