Leaving Skye was bittersweet.  It felt like a relief to leave a place where the bus schedule and weather had interfered so much with my sketching plans, yet on the other hand the skies had cleared and as my bus careened around Skye's hillsides towards the ferry port, tantalizing vistas appeared and disappeared.  Like I said, this is a place that earned a strong position on my "Return, and Do It Right This Time" list. Along the way I enjoyed chatting with a couple of Americans about travel, veganism (they were vegan and said it hadn't been as difficult in Scotland as it might have been),  and that state of mind you get to in your older age where you realize you only have so much time left, and if there's something you really want to do, you better get out there and do it.  Yep.
The ferry ride was lovely. I spent much of the time up on deck enjoying the sky and the water, but liked this photo from inside the cabin best.
In Mallaig I tried to do a quick sketch of the ferry from a nearby cafe, but it left mid-sketch.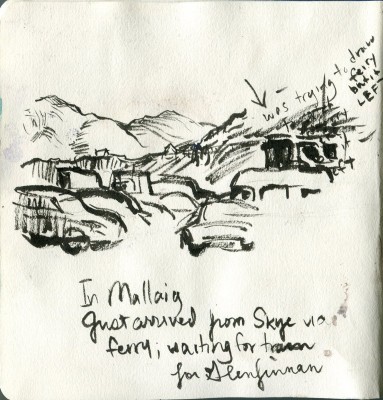 Then it was time for the train.  Arriving at the station, I had a little regret that I had not elected to arrange for a ticket on the Jacobite steam train which runs the same line, but it was expensive and I had figured better to see it from the outside, right?  In any case, even if your train is just a normal train, the journey from Mallaig to Fort William is considered by many to be the most lovely train journey in the UK.  I tried to snap a few photos through the window.
There's something about these highland landscapes that drives me crazy, I love it so much - the water, the steep slopes, the colors, the hints of other peaks beyond.  It feels like exactly where I want to be.
Saying my goodbyes to the Americans who were on their way to Fort William, I rolled my luggage to the train door in preparation to exit the train at Glenfinnan.  The conductor came over and said something in Scottish.  Recognizing that I hadn't understood, he repeated it.  Something about crossing over the tracks quickly or I'd be stuck for an hour?  I kept thinking I hadn't understood, because why would I need to cross the tracks quickly?
Well, here's why.
That's my train, on the left.  Since the platforms at this small station aren't long enough for the steam train, they had to stop it a little short, let me cross over from the other side, then they pulled the steam train further up so that its passengers could get out.
The Jacobite train is a beautiful machine, most famous right now for its acting role as Hogwarts Express, just as this region around Glenfinnan is the incredibly beautiful area through which the Hogwarts train passes.  It's seen most clearly while Harry and Ron are having their adventure in the flying car (video here).  Is it just me or does the gorgeous scenery steal the scene a little bit there?
I caught a quick sketch on the platform as the train was getting ready to depart...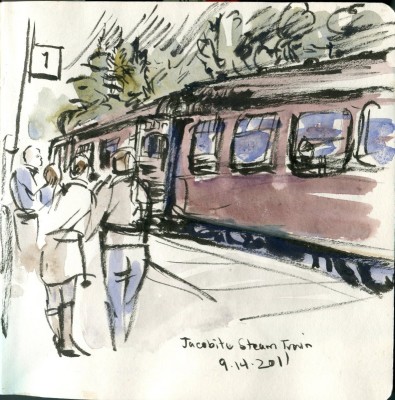 ...and then the train pulled out, making that wonderful steam engine chugging sound.
The fellow at the station led me down to the station bunkhouse and dining car, which looked very similar to the cars of the steam train I had just been sketching. What a beautiful area, what a great place to sleep!  I was already a little bit in love with Glenfinnan at this point (only about 30 minutes into my visit), and knew I would have to move fast to explore it since this would be my last night in Scotland for this trip.  Can you hear my heart preemptively breaking?  I never do well at leaving Scotland, and I've had some practice at it.
The skies seemed to be holding back the rain for the moment so I took a gamble with heading out for a walk up the hill. Immediately, I was mentally swearing like a sailor - not from any trouble but from the sheer awesome beauty of this place.
I got quite muddy on this walk and was worrying a little about having any wearable clothing for the next day... but I was having a great time.
I tried to take a self portrait but it wound up blurry...
...and I made a friend, do you see him?  We had a little communion across a roadway later in the walk.
Then, there was rain.  Buckets of it.  Still, I walked a fair bit - around the viaduct, down towards Glenfinnan Hotel and the pier where boat tours normally depart, but the entire area was extremely flooded and then we were getting flooded from above as well!  I did locate the local post office.
Arriving back at the bunkhouse, I was soaked to the bone and had to switch to my other pants and sandals while my jeans and boots took a turn in the bunkhouse's "drying closet".  I went for a snack in the dining car and sketched this view from the window.  Seriously, folks.
Here's the inside of the dining car, looking towards the kitchen area and the glass case with the pastries.
Back in the sleeping car, I sketched the very busily attended bird feeder from the lounge area, and then a view of a sleeping compartment.
In the evening I went to the nearby Princes House Hotel, whose chef is apparently "award winning" and indeed the food was good. I felt like having some familiar delicious flavors, so enjoyed some Laphroaig and Bowmore with a lovely snack and sticky toffee pudding.
This fellow in the kilt with the beer, scotch, AND laptop turned out to be in the tourist industry, obviously a well known personality at this particular hotel.
Upon returning to the bunkhouse, I ended up sharing some MORE whisky with a Scottish hillwalker who happened to have a bottle of Glenfiddich stuffed in his bags.  We discussed the relative merits of Speysides vs. Islays, and soon we were joined by a talkative munro bagger who was at least 70 years old and happy to hold forth on any topic; then a few more munro baggers showed up and it was all about walking adventures.  Eventually I tagged out to enjoy my wee bunk in my wee sleeping compartment.
Glenfinnan was good to me that first day, even if it did dump rain.  Weather report for the next day was promising some sunshine, could I be so lucky?