After a lovely breakfast involving feathery soft tattie scones (basically flat pancakes made of potato and flour, but oh so nice), I went off in search of small subjects to sketch, knowing the rain was likely to start up at any moment.  I settled on these wild plants down along the river bank.
Here's what the land looked like down here on the river, just down a rocky slope from the town.  Many locals walk their dogs down here so I had friendly visitors while sketching.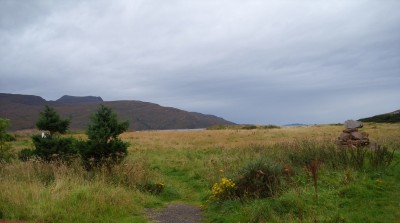 I stayed around town figuring I could pop into a cafe for shelter when the rain started, so this sketch is along the main drag, Shore Street.
I did have to pop into a cafe for a little while and accidentally ate this treat which was full of thick whipped cream and topped with strawberries glistening with sugar syrup.
I went back out again, and the rain held off long enough to make a quick sketch.
Then I went in for some delicious fish and chips at the Seaforth's Chippy, which is well known for offering some of the best fish and chips you can get in the UK.  The fish was lusciously fresh and tender, the batter fried perfectly golden and crispy and so fresh out of the fryer that the malt vinegar sizzled and hissed on it, and the chips were tender on the inside and very crispy on the outside, just perfect.  That said, the Chippy's health claims seemed a little... shall we say... misleading:
It has to be said that when fish and chips are your healthy option, your ship is already sinking and you may already be dead.
After my totally-not-healthy-but-utterly-delicious lunch, I fell asleep for like 3 hours (STARCH CITY), then resurfaced for one more sketch at the waterfront before rain started again...
and here are my last few photos as the sky darkened.  In the morning, off to catch the train to Skye!