We had a brief hit of summer recently but now it's back to rain most of the time, and therefore indoor sketching. I met up with a friend at Canvas Bar to sketch models (but got talkative and missed some of the poses)...
Portland Urban Sketchers met up at Produce Row on a week night, where other patrons eventually took notice of us and started laughing about being sketched... lucky for us, sketcher Pascale arrived with friends and sat where we could draw her.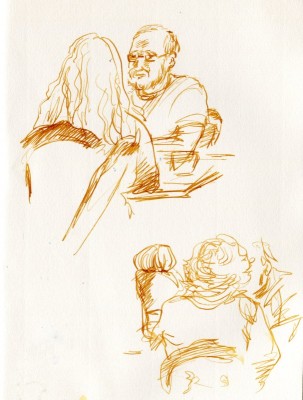 There was some sun on Friday so I tried to absorb it during my lunch break while doing this quick sketch at the Waterfront...
Stopped at Ken's Artisan Pizza for a really gorgeous margherita pizza with arugula, and sketched the guy stoking the wood-fired pizza oven, and the other guy flipping dough behind him...
...and returned to Hipbone Studio for more figure drawing. The model was great, and it was a joy to sketch all those very defined muscle masses.