Sketching from life requires love or heartache or both.  What else draws the eye in and makes it possible to lose yourself in the subject, to invest yourself completely in pursuing a vision?  You have to be moved.  The world can be full of rhythmic pattern and shimmering colors and graceful curves, all waiting to be sketched by your adoring pen; or, if you don't feel anything at all, then everything is just empty shells and the pen scratches impatiently across the paper, exposing nothing. If there's no there inside you, then there's no there there in your subject matter. That is to say, my there hasn't been there this month.  I did keep showing up at the page though frequency was lower than usual.  In lieu of passion, I focused on technique.
I completed several pages of simple line exercises out of Rendering in Pen and Ink by Arthur Guptill, experimenting with different ways of holding my hand and the pen... it's really not as easy as it may seem.  My hand could use a lot more of this practice.

I also took a Solarplate Etching workshop at the excellent Atelier Meridian, and will certainly be doing more of this in the future.
Portland Urban sketchers went for a sketchcrawl at one participant's beautiful vineyard and garden, though we got rained out pretty quickly...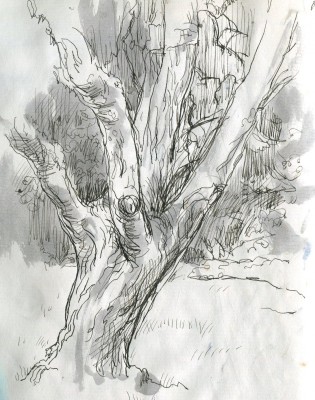 June is already looking up, but let's make that another post.