Saturday morning I attended a drop-in figure drawing session at Hipbone Studio. These days it's rare that the Saturday session doesn't conflict with a sketchcrawl, so the opportunity was not to be missed. Gestures were drawn with J. Herbin Ambre de Birmanie ink loaded in a Kuretake No. 13 Hair Brush pen, on blue-toned Fabriano Ingres pastel paper.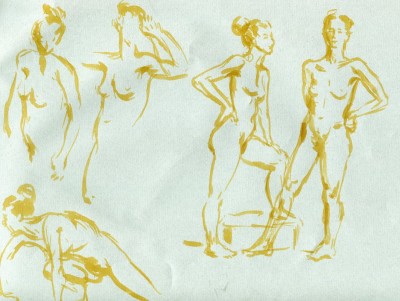 Longer poses were sketched with colored pencils, watercolor, and fountain pen on handmade toned Khadi Papers from Muse ...
I loved working on this paper!  The colors are great, and the paper is strong enough to take a beating - and strong enough to take water-based media. It's also really fun to have Ambre de Birmanie in a brush pen - a little more on that soon.