The tall ships Lady Washington and Hawaiian Chieftain are docked at St. Helens, Oregon, for Easter weekend.  A large group of reenactment folks and pirates came out to meet them on Saturday... and so did four of the Portland Urban Sketchers. We got to St. Helens early in order to spend the entire morning with the ships.  Unfortunately, due to a very slow lunch service, the morning was pretty much all we had - we ran out of time for our intended second session and none of us felt at all done with the ships when they pulled out to commence the Battle Sail.  I had only just started to figure out the shapes of the ships and the particular problems of drawing complicated vessels like these, with all the copious ropes and lines and their relationship to the masts and sails.  I could use a lot more sketching time with the tall ships!
Once the ships left, we switched to sketching the costumed officers, ladies, and pirates. The black line drawings were done with the Noodler's Flex fountain pen, which seemed to be working better for me this weekend - I loved using it for these sketches.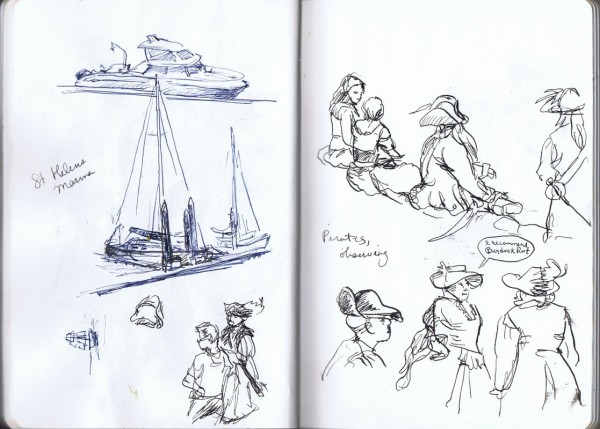 The costumed lady really was dispensing herbal remedy prescriptions.