My weekend started with Friday night's Drink & Draw (Like a Lady),  a mixer for lady cartoonists.  I spoke with friends Molly, Gabby, and Virginia, and met Sarah and a few others.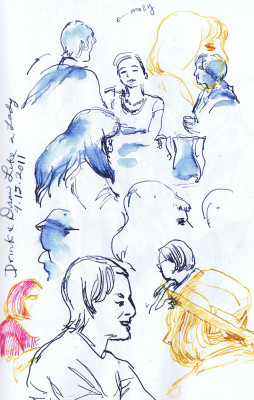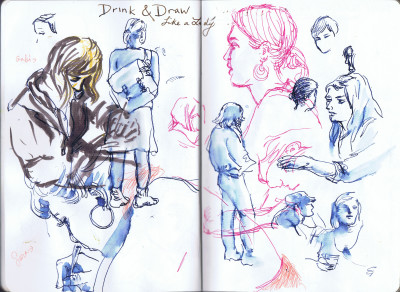 Saturday morning Portland Urban Sketchers met up at Taborspace, which is an awesome volunteer-run donation-based cafe in a church up on SE Belmont.  Then we trekked up to the Tabor reservoirs to sketch.
After lunch a few of us headed over to the Oregon Convention Center to attend Stumptown Comics Fest. Alanna, Deb, and I sat in on the Dr. Sketchy's Anti-Art School costumed figure drawing session which was themed after graphic novel The Goon. I was very happy with these, which were made using my cheap-but-great Reform 1745 semi-flex fountain pen filled with Noodler's #41 Brown.
After that, I hit a lot of the panel discussions and lectures at the comics fest which was great fun. I kept my hands busy with sketches when I wasn't taking notes. My sincere gratitude to all the speakers I saw - Thomas James, Tom Orzechowski, Larry Marder, Carla Speed McNeil, Evan Dahm, Barry Deutsch, Jenn Manley Lee, Kel McDonald, Zach Hudson, Scott Kurtz, and Kris Straub. Whew!  I had a great time at these panels and wish it could have gone on for many more days.
After Stumptown Comics Fest, I feel renewed excitement about making comics and am thrilled about all the great people I had the pleasure to interact with. I spoke with personal friends, favorite artists, Mike's awesome gaming buddies,  local urban sketchers, potential new urban sketchers, and some brand new-to-me artists just starting to get their name out.
Stumptown Comics Fest always leaves me feeling like I know where I belong.  These are my people.  This is what I want to be doing.  Well, this and urban sketching!
Edit:  In my notes, some names are spelled incorrectly and I think the quote I attributed to Jenn Manley Lee actually came from Kel McDonald.  Oops.