Many Urban Sketchers carry small three-point stools like this one from REI for use while making quick sketches.  This type of stool usually isn't comfortable for longer sessions, but its advantage is in its size - a little camp stool will fold up so small as to be hardly noticeable among other art supplies. I tried one out, but immediately knew it wasn't for me.  Without back support I just can't get comfortable and would never last more than 10 minutes.  During my quest for a good travel chair, I also tried out camp chairs and stools at REI that offer some kind of back support solution, but they were all either huge and ungainly or terribly unsuitable for the shape of a human bottom.
That's why this Christmas I asked for - and received, from Santa Boyfriend - the Coleman Woodsman II chair. I believe he got it from Amazon for about $20.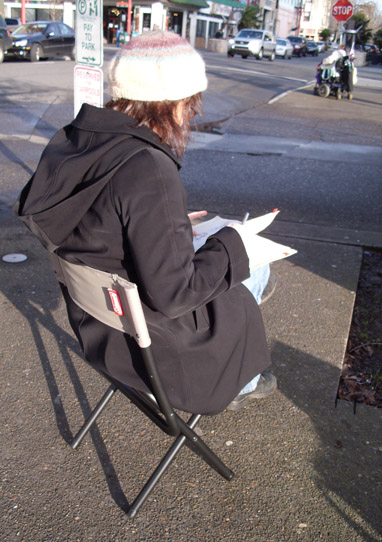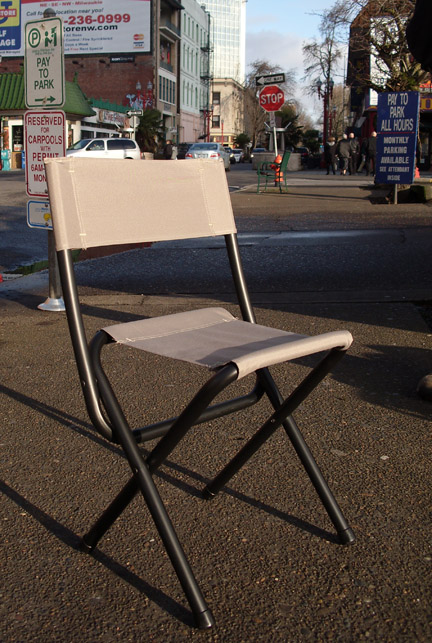 This chair is perfect for around-town sketching.  I've even used it at cafes when it's more convenient that pulling up a cafe chair, and it's just as comfortable.  I haven't used it for longer than about 30 minutes at a time so far, but no parts of me got sore or tired and I think it could support hours-long sketching sessions.
It folds up to a size that is small for a folding chair, but large for a travel stool. Unfortunately, this means the bulk is certainly noticeable. On the positive side, it's light as a feather - at least, as light as a 2 pound feather.  It is totally effortless to carry. My one complaint is that it doesn't have a carry strap of any sort. I am very likely to accidentally leave the chair behind while buying coffee or waiting for a bus.
I'm hoping to add a long shoulder strap to the chair and will post instructions if that comes out successfully.  I'll also write my name and number on the canvas, since even with a strap I'm bound to lose it eventually.
While the size of the Coleman Woodsman II chair makes it not so great for travel by air or in any other situation in which space is very limited, it's worth having at hand for your local sketching expeditions and I'm very happy with it!