Last Saturday, I met up with fellow Urban Sketchers at the Cafe under the Bridge next to Cathedral Park in St. Johns.  Many of our regulars were away on vacation but the group filled out anyway.  It's been great seeing some new or low-frequency members becoming new regulars!  Especially as we approach the winter season and have to switch to indoors locations.
When it came time to start my first drawing, as is my normal routine I waded straight in with no planning or thumbnails.  It's clear that I hadn't figured out the actual structure of the bridge, and would have benefited from a few small studies first.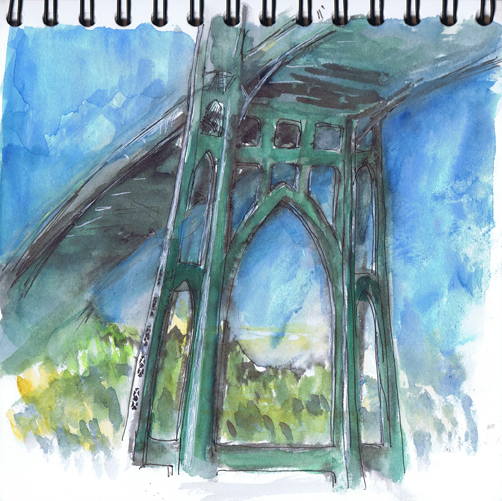 Afterwards I tried to make up for it and went looking around for interesting angles.
While wandering, I found that Cathedral Park continues straight down to a sandy beach on the Willamette, where the remains of some industrial past are obvious.  I wasn't the only urban artist quietly practicing that morning; the strumming of a guitarist could just be made out over the sounds of the river.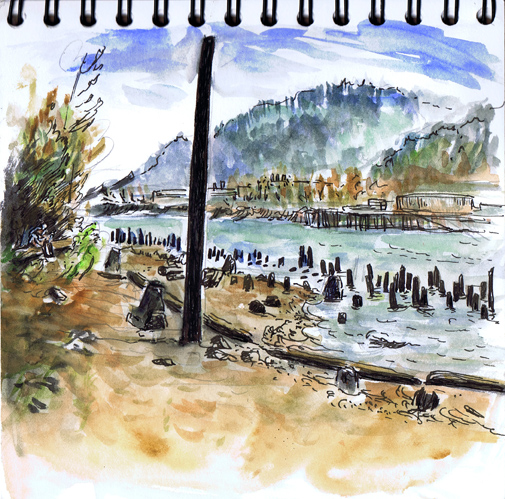 We met up for lunch back at the cafe.  Colin's daughter acted as our guest artist, and I loved seeing her draw alongside us. Alanna got a picture.
I went back for one more sketch.  Had trouble with the coloration.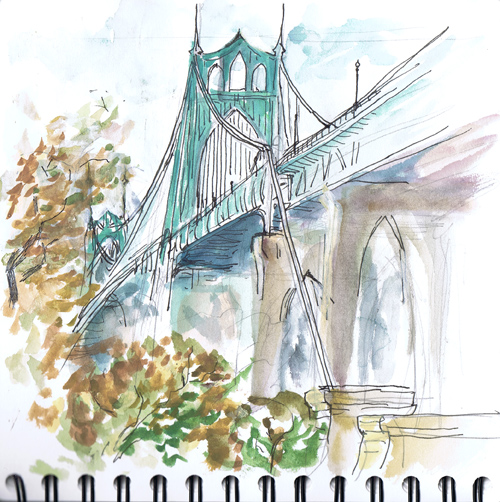 This outing clarifies an issue to me:  how much detail do I want to achieve?  I love it when others plan their work, and turn out a beautiful, detailed line drawing - but I keep ending up with a very loose line drawing and a bunch of paint.  Perhaps I need to get more intentional here, leave the paints behind in exchange for a little viewfinder.  It would certainly be a good experiment - it feels like the right time to push some change of approach.