I've always felt shy about my drawings.  My most frequent excuse for not drawing has been that I couldn't find a spot where no one could sneak up and peer over my shoulder.  Ohh, the hours of drawing practice I could have gotten, had I not been so worried about the opinions of strangers! It all started to change when I joined the Portland Urban Sketchers in October 2009.  Through the comfort of being part of a group and the support of other artists-in-progress (as we all are, always), I started to relax.  After all this time!
When I set off with Gabi Campanario to sketch Pioneer Courthouse Square on Friday afternoon during the Urban Sketchers Symposium, I was ready to take this to the next level.
Gabi is also known as the Seattle Sketcher; he does reportage sketching for the Seattle Times. His specialty is using the act of drawing as a way of interacting with this city, learning about people, and sharing stories with others.  He also founded Urban Sketchers.
For our sketching expedition, Gabi talked about his style of approaching a scene.  He looks for the elements of the story, tries to capture a broad view, and also some detail views.  He talks with his human subjects, finds out more about them as he sketches them.
While we were there, the giant inflatable movie screen used for "Flicks on the Bricks" had been laid out and was being prepared for inflation.  I decided to go straight for this transitory scene, and sketched it quickly, knowing it could start inflating  at any moment.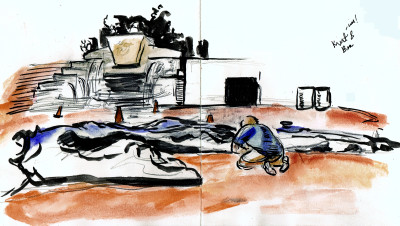 Once it was partially inflated, it went up very quickly!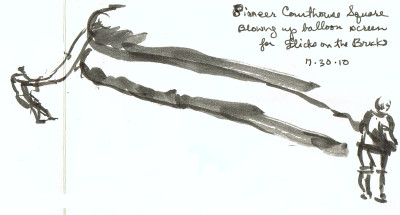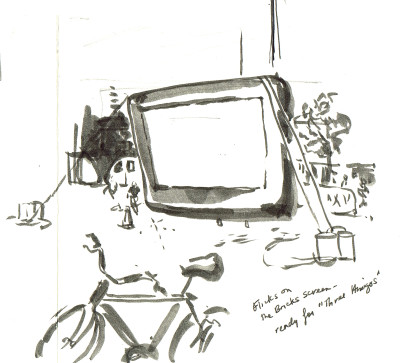 Here's the major part of this for me, possibly my largest breakthrough at the symposium - I went up and spoke to the fellows that were inflating the screen.  I was quick and nervous and shy, and only got a little info - Kurt was from Washington, and his cohort was Ben - but it was my first time purposefully breaking the fourth wall.  My drawing wasn't great - I wasn't proud of it - but I showed them, and Kurt exclaimed in delight, "I've been illustrated!"  It felt so good to be open & interactive with my sketching, and to know that it didn't have to be a masterpiece to have a place in the world.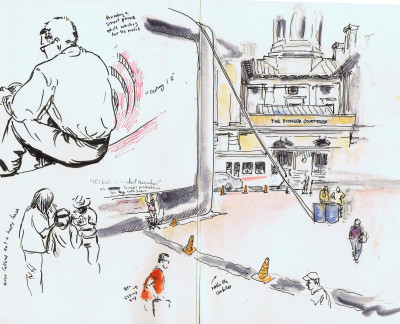 Multiple times during the symposium,  I was approached by strangers who wanted to see my drawing and find out what we were doing.  I've done enough urban sketching now that my response was automatically positive and inclusive - it didn't bother me, I didn't feel ashamed, I didn't hide my sketchbook.  I accepted that, while my page might not look great, in the larger scheme of things I was embodying "art happening on the street," and that was by far the most important piece of art I was making.
Since the symposium, I've been seeing my city anew.  It's full of untold stories waiting to be found, and sketching is a way to get there.
See what I mean, about the symposium being a transformative experience?  I'm not just sketching differently... I'm thinking differently.
Thanks, Gabi!