Matthew Brehm teaches architecture at the University of Idaho. On Friday morning, I went out with his group for tips on sketching urban architecture.
Now, like anyone else who has ever taken an art class, I know that being systematic at the beginning of a sketch is a good thing. We're supposed to make thumbnail sketches. We all had to do them. But how boring, when there are all those gorgeous details to capture! All those colors!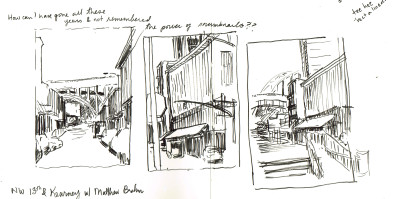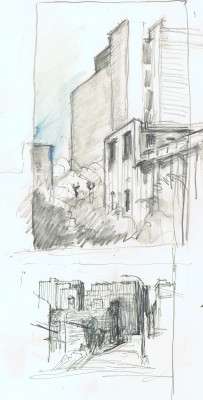 Brehm pointed out that if you know what gorgeous details you want to focus on, creating structure at the beginning can be a way of delivering those details on a silver platter - by focusing first on placing your horizon line and a few perspective lines, then blocking in values, you can easily see how to direct the eye to the details you're going to add at the end.  Starting this way makes it easy to tell where you don't need more detail.
Additionally, he gave this advice for anyone who tends to run out of time with an unfinished drawing: scale the size of your drawing to reflect the amount of time you have.  Sounds simple, but I've always basically drawn to the size of my paper, and never thought about going smaller.  Keeping it small can help you to focus only on details that you really want, and to avoid getting frustrated with a thousand details that you don't have time to draw. A small drawing can still be developed with color and be a gorgeous little piece - and better to have a small, finished drawing that delivers the goods, than a half-finished 8.5x11 sketch that you eventually have to abandon for lack of time or patience!
In the old days, I hated making thumbnail sketches, and always leapt ahead into the wild blue.   (And certainly, in many instances, I'll still do that, since the looseness of that technique has its own rewards.)  But now, the idea of starting small, building structure, adding value, and only then moving on to detail seems quite appealing. I'll be experimenting with this in the months to come!