Like most artists, I've spent a lot of time drawing with pencils. Unfortunately I don't enjoy working with them much. It's hard to get really dark darks, it gets very smudgy, and filling in large areas can be quite tedious. When I do work in pencil, it's usually a mechanical pencil for rough sketching (or a color pencil for the same purpose), and I switch to whatever tool-of-the-day I'm hooked on, as soon as possible.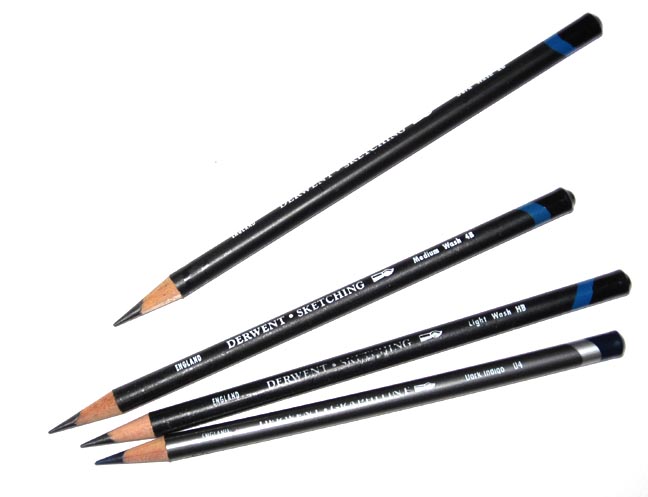 HOWEVER, lately I've been experimenting with Derwent's water-soluble graphite pencils, and their tinted brethren, Graphitint pencils. It's not so much that I like them as pencils - they make a very mushy line, no matter how much you sharpen them - but they're good at laying the basis for a wash.
Here I used a light wash pencil, applied water with a water brush, and then went in afterwards to strengthen some areas with a mechanical pencil and eraser:
These made use of a medium wash pencil, though for the one on the left I may have turned up the contrast a bit in post-processing:
I liked using the Derwent Graphitint pencils for some variation from the standard grey while keeping the color muted. However, it's too mushy on this "Hand Book" journal paper for me to enjoy using it for architectural features rather than human portraiture.
It's quite minimal, but here's a picture of my little test on scrap bristol, showing (1) the line quality immediately after sharpening, (2) an erasability test - a line with an attempted erased portion, and (3) the effects of adding water with a water brush. For comparison I also did some lines with regular graphite and a water-soluble colored pencil. Click for a closeup.